13 Winter trek in India Himalayas
If you are adventure seeker and your dream is of trekking in Himalayas. The Himalayas trek which passes throw narrow trails, ascends and descends, and the breath-taking snow clad mountains. Sometimes I just use to think I am lucky enough that I have born in India, the country blessed with the magnificent Himalayas that provides ample opportunity to hike on such a high altitude pass. But yes every one to think that is wi winter is the safe time to hike, then yes expects rainy season every season is the best time to hike, but yes remembers that the experience that counts for the adventure junkies.
As it is quite tough to walk on snow also at a point where the temperature is freezing and in meanwhile the amazing view of all around makes you feel that you have forgotten all the pains and enjoying the winter trek in the Himalayas.
This winter lets do one thing choose below mention any of the treks and pack your bag to experience the amazing Trek in the Himalayas.
EASY TREKS: Winter Trekking In the Himalayas For Beginners
1. Nag Tibba Winter Trek: Journey To The Abode Of Nag Devta
Nag Tibba trek is the perfect trek for those who want to enjoy the trek but with less diccicluty also a perfect escape for a weekend. It has a major significance in Hindu. As the Temple Hindu Pilgrimage to the temple of Nag Devta (Snake God). Thr trek begins from Dehradun and goes through the remote village and landscapes of Pantwari, NagTibba, UpHill and Back to Dehradun.
Altitude: 3,050 m
Duration: 1N/2D
Route: Dehradun-Pantwari-Nagtibba- Uphill – Dehradun
Best Season: Mid November – March
Highlights: Sight of the Swargarohini, the temple of Nag Tibba, and remote villages around the taste of local food.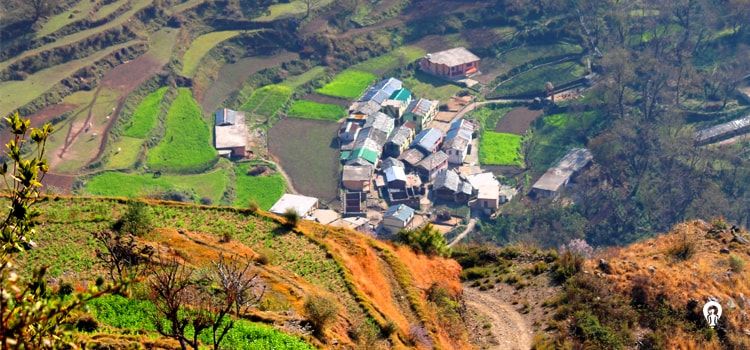 2. Gidara Bugyal Winter Trek: A Hidden Gem
The Easy Gidara Bugyal trek, situated around 20km beyond the famous Dayara Bugyal is yet to be explored, the trail goes through lush green high altitude meadow booming with flowers by taking on a gradually ascending but easy trails.
Altitude: 3,750 m
Duration: 4N/5D
Route: Dehradun- Uttarkashi- Bhangeli – Gidara Bugyal – Dehradun
Best Season: May End tp September End
Highlights: Lush Green Meadows, Stunning views of Banderpoonch Peak and Gangotri Ranges, Dreamy Campsites.
3. Triund Trek Winter Trek: A Short Stay In The Alpine Paradise
The triund lake is a small hill situated in the lap of Dhauladhar mountains in the state of Himachal Pradesh, Triund lake is a large land of green grass but the trail is rocky and cuts in step at some places. Triund Lake is an Ideal Trekking destination. It's an easy hike. The trail passes through a beautiful mixed forest of oak, deodar, rhododendron, and tranquility of nature. The view of Dhauladhar range from here to till we complete our trek is awe- inspiring & exhilarating. You can't miss that you can come here at any time of the year for a refreshing yourself & active weekend.
Altitude: 3, 300 m
Duration: 1N/2D
Best Season: January – February
Route: Mcleodganj–Triund- Triund lake – McLeodganj
Highlights: Galu Devi temple, Dhauladhar ranges, peace to your mind.
4. Kedarkantha Winter Trek: Pretty Campsites Amidst Giant Pines
The Kedarkantha trek being easy serves as a perfect winter trek in the Himalayas located in western Uttarakhand which is famous for its pretty campsites in clearings surrounded by giant pines. The climb & descent through the enchanting forest ends with an icing.
Altitude: 3,500 m
Duration: 4N/5D
Route: Dehradun- Sankri- Huda- Ka- Talab -Krdarkantha Camp- Sankri – Dehradun Best Season: Last week of December – Mid April
Highlights: Juda-Ka-Talab & Hargaon campsites surrounded by giant pines and 360-degree view of famous mountain summits, Kempty falls, Tons Valley, and Sankri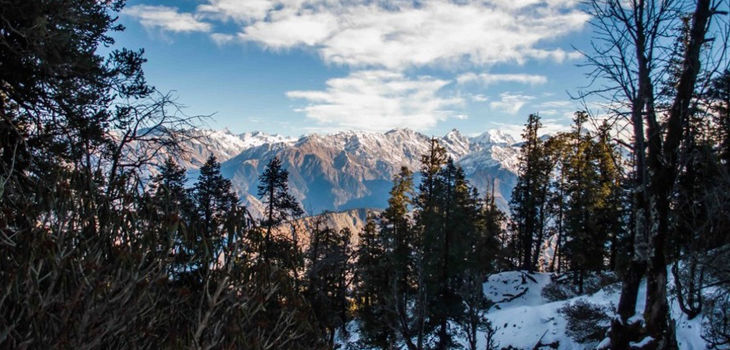 5. Dayara Bugyal Winter Trek: a way towards the Ski Valley
Bugyal in local dialect means "High Altitude Meadow" easiest winter Himalayan treks, which give perfect opportunity to explore the most beautiful meadows in Uttarakhand, spanning 28 sq km as well as offering the Nordic and Alpine Skiing.
Altitude: 3,600 m
Duration: 6 days
Route: Barsu/Raithal Village-Barnala Bugyal-Dayara Bugyal-Bakariya Top
Best Season: Mid December – February
Highlights: Barnala Lake, meadows, ski valleys, and shepherds' huts
MODERATE TREKS: Himalayan Winter Treks Having Some Prior Experience
6. Brahmatal Trek: Unexplored winter trek in Uttarakhand
Brahmatal is one of the very few winter treks that can be done in January – February.It gives a magnificent view of the scaled peak in winter season despite snow layer it is not very difficult to scale.
Altitude: 3,270 m
Duration: 7 days
Route: Kathgodam-Loharjung-Bekaltal-Brahmatal-Daldum-Kathgodam
Best Season: Mid January–February
Highlights: Brahmatal lake at the mountaintop, jungles with snow beneath the leaves, and terrific panoramic views
7. Singalila Sandakphu Winter Trek: Search For The Red Panda
Confined in the North-East, Singalila Sandakphu trek is best done in the winter season which adventure seekers must try onces in there life. It is the only trek in India that lets you see some of the tallest mountains in the world –Everst, Kanchenjunga, Makalu. Furthermore, you may be lucky enough to find red pandas and Tragopan.
Altitude: 3,636 m
Duration: 7 days
Route: Dhontrey-Tonglu-Garibas-Sandakphu-Phalut-Rammam-Rimbik-Darjeeling
Best Season: October – November
Highlights: Monasteries, snow-capped mountains, Tiger Hill, and views of Kanchenjunga, Everest, Makalu, & Lhotse
8. Har Ki Dun Winter Trek: The Trek To The Amphitheatre Of Gods
Har Ki Dun Valley is a cradle shaped valley, surrounded by snow-covered peaks and alpine vegetation. It is also connected to Baspa Valley by the Borasu Pass. This is a popular Valley trek that can be enjoyed by people of all ages. The views of Swargarohini peaks and Bandarpunch range as well as lush forests and meadows make for a scenic trek.
Altitude: 3,560 m
Duration: 8 days
Route: Sankri-Taluka–Osla–Kalkatiya Dhar-Har Ki Dun
Best Season: Mid November – Mid March
Highlights: Osla village, Kala Nag, Bandarpunch, Ruinsara peaks, Jaundhar glacier, and the majestic Swargarohini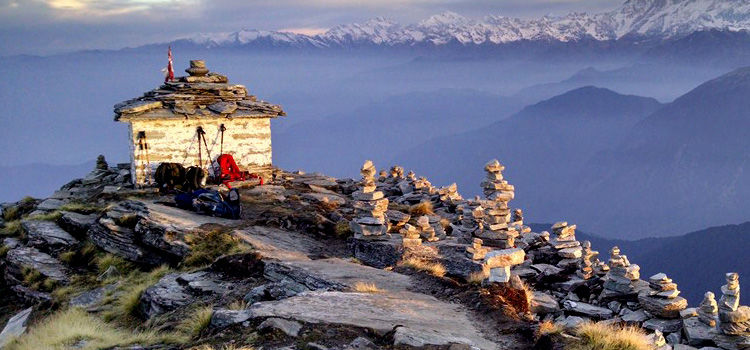 9. Dzongri Winter Trek: From The Erstwhile Sikkim Capital
The trek beginning in Yuksom – erstwhile capital of Sikkim, paves goes through beautiful gorges, forests laden with Himalayan flowers, and panoramic views of Mt Pandim, Mt Thenchinkhang, & Mt Jhopuno.
Altitude: 4,020 m
Duration: 7N/8D
Route: Yuksom-Tshoka-Dzongri-Halt
Best Season: Mid November – March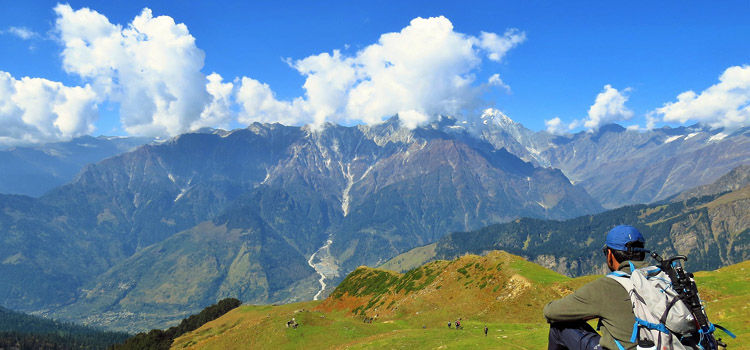 10. Kuari Pass Winter Trek: The Lord Curzon Trail
The Kuari Pass trek was discovered by the erstwhile Viceroy Lord Curzon and is popularly known as Lord Curzon trail among the Europeans.
Altitude: 4425 m
Duration: 7N/8D
Route: Dhak-Chitrakantha -Tali Top-Khulara-Kuari Pass-Tali -Auli-Joshimath
Best Season: Mid December – February
Highlights: Sunrise views of Mt Kamet, Mt Chaukhamba, Mt Trishul, & Nanda Devi
CHALLENGING TREKS: Winter Treks In the Himalayas For The Pros
11. Chadar Trek: The Frozen River Trek In Zanskar Valley
With falling temperatures falling -35 degrees Celsius, the Zanskar river water gets freezes and comes into the sheet form of ice. The experience is so unique that you would often compare it with any another trek. But the beautiful sight of the frozen river and the Shanti Stupa en route makes the experience all the more exciting. See our complete chadar trek, if it's in the cards anytime soon.
Altitude: 3850 m
Duration: 8N/9D
Route: Leh – Tilad Do- Shingra Koma- Tibba Cave- Naerak Camp – Tibba Cave – Leh
Best Season: Mid January – February
Highlights: Shanti Stupa and Walk on frozen river
What makes it difficult?
The temperatures are uncomfortably freezing throughout the day. Walking on the ice sheet itself is very difficult.
12. Chopta Chandrashila Winter Trek: Highest Hike to Lord Shiva's Temple
Chandrashilla is the easy four-day trek to Chandrashilla which gives you an opportunity to have a great experience for amateurs. Chandrashila top is the only trail from where one can get a perfect 360-degree view of competing Himalayas range. The trail begins from a small village Sari and the following trail will take you to a beautiful lake- Deori Tal gives you memorable sightings of mountains Choukhamba and Kedarnath– one of the prime pilgrim spots of Hindus. It's a small trek where you can relax walks in which you don't have to put much vigor. Altitude: 4,090 m
Duration: 6N/7D
Route: Rishikesh-Deoriyatal-Chopta- Chandrashila- Rishikesh
Best Season: Mid November – March
Highlights: World's highest Shiva temple at Tungnath, Chandrashila (moon rock), bird-watching in Chopta, and views of Nanda Devi & Trishul peaks
What makes it difficult?
The trails are difficult to spot beneath the snow carpet that makes it difficult. Add to this the sub-zero temperatures (falling up to -10 degrees Celsius), and you know that you are going to have a tough time.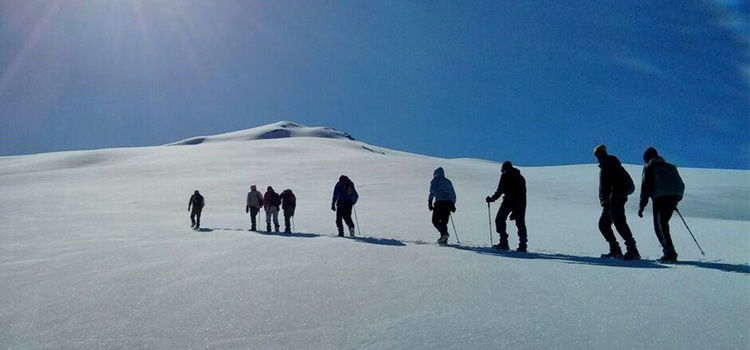 13. Snow Leopard Trek: The Ultimate Wildlife Empyrean
The Snow Leopard Trek takes you through a wildlife expedition in the snow-capped Hemis National Park. Nestled among the Himalayas in Ladakh, the trek gives a chance to see some of the most endangered species in India. And the additional scenic views only add to the long list of rewards to the strenuous trek.
Altitude: 4,100 m
Duration: 13 days
Route: Leh-They-Hemis National Park-Zingchen-Leh
Best Season: Mid January – February
Highlights: Snow Leopard, Tibetan wolves, horned sheep, blue sheep, and Eurasian Brown Bear
What makes it difficult?
The temperatures in winters stay below the freezing point throughout the day, ranging between -5 degrees Celsius and -10 degrees Celsius. Also, being a 13-day long trek, it is a very tiring experience.
What are you waiting for hurry! Arrange your bags and all set for winter treks in the Himalayas before the snow melts away.
Enjoy the winter